Block Silicone Oil
Our working hours:
Mon-sat:08:00AM-05:30PM
Web :www.daeper.com
E-mail :dptrade
@daeper.com
Fax :020-82318566
Add :No.1201, Hou He Building,No.77-1, Mid-Road of Zhong Shan Main Road,510510 Guang Zhou City, Guang Dong Province, P.R.China.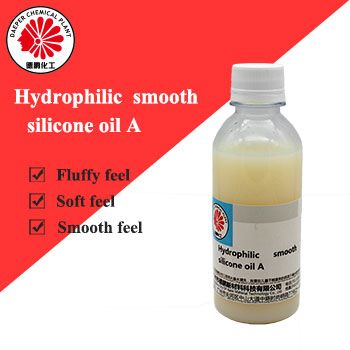 Hydrophilic smooth silicone oil A
Detailed Information
Hydrophilic smooth silicone oil A
Introduction:
Hydrophilic smooth silicone oil A is a silicone softening agent with a structure of quaternized modification copolymer.
Characteristic & Specification
Appearance: clear liquid
Character: cationic
PH value: 5-6
Product Features
1、Straight & smooth touch feel.
2、Good product stability.
3、Non-effect to wet rubbing fastness of fabric.
Application range
Application for Polyester Cotton(TC)
Usage & Dosage
Padding bath method: 50g~80g/L
Packaging
120kg HDPE barrel
Storage
Store in cool and dry place away from direct sunlight and heat for better shelf-life.
Expiration Period
6 month
Note: The above information is based on the existing experience and the knowledge of the technicians of the company, only for the reference by users. Before use, users shall conduct necessary tests in accordance with its own purpose. The company shall not assume any consequences or losses caused by relying on this technical data.
Related Products